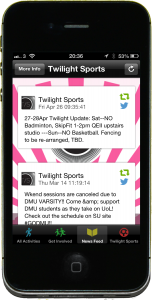 Bespoke Twitter Integration
Using  the newly available native Twitter framework we created a fully bespoke Twitter integration allows all students to be fully up to date will all things Twilight Sports.
The 4-a-side football league is a very important part of Twilight Sports so we built a specific section on the app to bring the latest fixtures and scores straight to the device.
A Business Expanding App
We developed a specific area of the app to make it easy for the folks at Twilight Sports recruit volunteers and activators.
With this tool administrators at Twilight Sports can easily create a call to action and have a potentially massive audience throughout De Montfort University.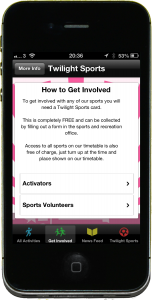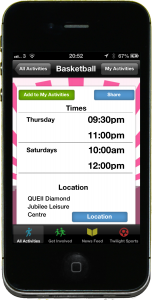 A Productivity Tool
The app ensures users are never late and always in the know when it comes to the sports offered by Twilight Sports.
With the date, time and location sent straight to the device it has never been easier to train at Twilight Sports.
Abele app's service helped us reached our customer base through a whole new media platform!
We can now interact with consumers on the move and send content directly to their mobile device. After developing a visual and useful app we can give our students information on new sports, scores and fixtures for future events.
Cal always gave us plenty of information to reassure us with the technical details and was prompt with replies; this ensured we could develop a great product at fantastic value. We are looking forward to work with Abele apps in the near future to develop our app even further.
Many Thanks from De Montfort Students' Union!